Monocacy, Antietam & Harpers Ferry
July 15, 2006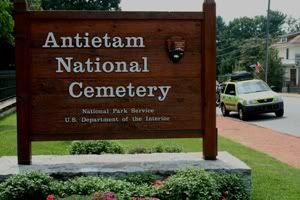 Upon our departure from Washington, we drove the short distance to the town of Frederick, Maryland to spend the night. We selected Frederick due to its proximity to the 3 Historic areas we next visited, Monocacy National Battlfield, Antietam National Battlefield and the town of Harpers Ferry.
After a stop at the Frederick Visitor Center, we had the lay of the land and drove over to the nearby Monocacy Battlefield. A small but significant site, it was here in 1864 where Union General Lew Wallace (who later wrote the novel Ben Hur), defeated the Confederates led by General Jubal Early, stopping the potential capture of Washington DC. It was a very small site certainly compared to the massive and impressive display at our next stop, Antietam.
Antietam , located in the small town of Sharpsburg, Maryland, is an impressive and solemn place. It was here on September 17, 1862 where the bloodiest battle in American military history was staged. The Union troops led by General George McClellan battled Robert E. Lee's Army of Northern Virginia to a technical stalemate, but the Confederate withdrawal after the fight gave President Lincoln the impetus to issue The Emancipation Proclamation which freed the slaves.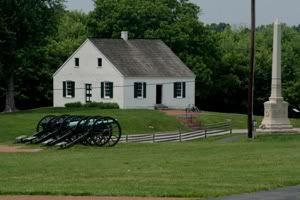 Dunker Church
We visited the immense Visitor Center, where we watched a one hour documentary about the battle, then took the driving tour through the key battlefield sites. The Dunker church served as Lee's headquarters, the sunken road where over 5000 men were killed in 4 hours and Burnside's Bridge where 450 Georgia troops held the Union army at bay for most of the day, allowing time for Confederate Union forces to arrive and preventing a Union victory.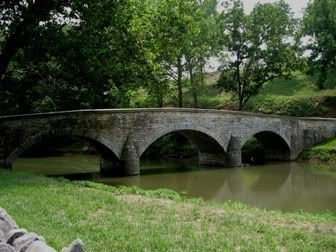 Burnside's Bridge
Our tour through history continued when we drove to the nearby town of Harpers Ferry West Virginia. Located at the confluence of the Potomac and Shenandoah River, Harpers
Ferry has a rich history. The site of abolitionist John Brown's uprising in 1859, which helped precipitate the Cival War, the town is full of historic buildings. The Lower Town, right on the two rivers has flooded so many times there is a marker on the side of one building marking the high water level of the various years floods, some over 30 feet.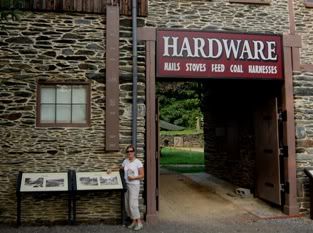 Flood Levels
We explored the city, hiking a short distance on the Appalachian Trail, which passes right though Lower Town, stopping at the headquarters of The Appalachian Trail Conservancy, the non-profit which helps maintain the 2000 mile trail which stretches from Georgia to Maine. After a long day of seeing history we drove into Shenandoah National Park and found a campsite.